Laminate Skirting Boards & Scotia Guide
Adding skirting boards and scotia is the final touch to your beautiful laminate flooring. Are you stuck between choosing a skirting board or scotia for your brand-new laminate flooring? Well, fear not. Here, we discuss the differences, purposes, and benefits of each product.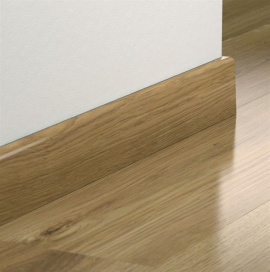 Laminate Skirting Boards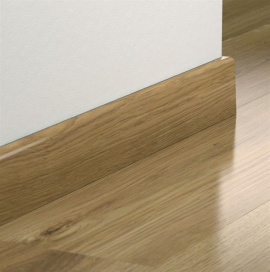 Skirting boards, also known as decorative timber, are required with every laminate installation to cover the mandatory 10mm expansion gap around the room. Skirting boards have two major purposes. Laminate skirting serves as a form of protection for the wall. For example, protecting the wall from knocks and grazes. The second purpose is quite simply for decorative reasons. It looks good!
Some may choose to remove their current skirting and re-fit it after the floor, but if you need a whole new skirting, we have plenty to choose from!
We have plenty of skirting boards to choose from to match your laminate flooring.
Installing new laminate flooring? See our guide on How to Install Laminate Flooring for everything you need to know.
Should Skirting Match The Floor?
As a general rule, we say that skirting should match your laminate floor. This add a layer of consistency to your floor and has a natural finish.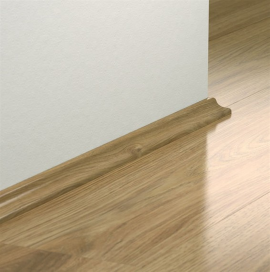 Laminate Scotia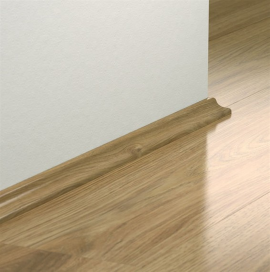 Scotia is simply a thin, long piece of wood that runs along the bottom of the wall in between the wall and the laminate flooring. All wood flooring requires a gap, as previously mentioned, along the edges of the floor between the wooden planks and the wall.
If you're keeping your current skirting boards where they are, you'll have to bridge the gap between the floor and the skirting board. This can be done by using a scotia or a 'beading' to seamlessly cover the expansion gap. Like the skirting boards, we supply this either in white or to colour match your laminate.
When choosing the right skirting board and scotia for your home, room suitability is very important to consider. Read our guide on Laminate Flooring Room Suitability.
Learn about our other floors