Laminate Flooring Guide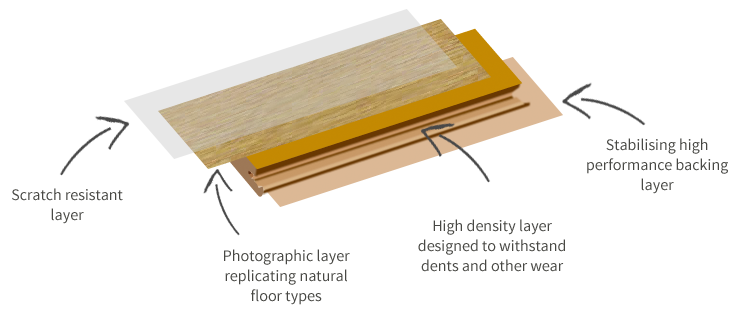 What's your ideal floor? If it's one that's strong, versatile, and really good looking, we know something that's right up your street - laminate flooring! We have put together everything you need to know about laminate flooring in our collection of guides. We cover what laminate flooring is, how to install it, how to maintain it and everything else in between.
Firstly, lets look at the basics...
What is Laminate Flooring Made Of?
Laminate flooring is made from High-Density Fireboard (HDF), covered with a high-definition photo and finished with a tough melamine wear layer.
Types of Laminate Flooring
Our laminate flooring is available in a wide range of effects. Popular effects include tile, natural oak and bevelled edge. And styles include single plank and multi-strip laminates. There are thicknesses from 7mm to 12mm. Plus, a full range of colours and natural tones including white, grey, browns and black are available. So you're sure to find the perfect fit for your home.
The Benefits of Laminate in Your Home
The HDF is resistant to changes in temperature and moisture, the photo can replicate any flooring material, and the wear layer protects this flooring from scratches and dents. It's a pretty impressive combination which means you can lay laminate flooring in nearly any room in the house. And many laminate options are suitable for underfloor heating. Oh, and to show off, it's also really affordable.
Not sure which rooms are most suitable for laminate flooring? Check out our room suitability guide.
Laminate AC Ratings
Are you wondering how durable laminate flooring is? Laminate flooring toughness is measured with an AC rating which ranges from 1 to 5. AC1-AC2 rated floors are more suited to domestic settings. AC3-AC5 are more suitable for commercial areas. The more traffic your floor will experience, the higher the AC rating you should choose to ensure it is long-lasting. You can find the AC rating of each laminate flooring type on each product page.
What to Consider When Buying Laminate
How much traffic does your room endure? Look for laminate with a high AC rating for high traffic areas.
Quality – for long-lasting laminate, choose a high thickness.
The size of your space – to make a small room look larger, choose wide planks and lighter colours such as light, white and grey.
Interior design – ensure the colour and effect you choose matches your walls and furniture.
Do you require underfloor heating? Most laminate is suitable for underfloor heating systems; check each product page for our "suitable with underfloor heating" certification.
Budget – depending on your budget we have affordable laminate for everyone.
Laminate Flooring Brands
At Flooring Supplies we stock a great range of quality laminate flooring brands for you to shop:
Learn about our other floors