Laminate Flooring Guide
In this laminate flooring guide, we'll go through the basics of this flooring type, from what it is made of to what you need to consider before buying. Read on to find out everything you need to know about laminate flooring.
What is Laminate Flooring Made Of?
Laminate flooring is made from High-Density Fireboard (HDF), covered with a high-definition photo and finished with a tough melamine wear layer. This means that laminate is a multi-layer synthetic flooring option. But being synthetic doesn't mean it's made from plastic; laminate flooring is a collection of wood fibres with a top resin layer.
There tends to be four layers within laminate flooring. The first, the backing layer, is a stabilising layer that seals the back of the board, protecting it from moisture. If installed and maintained properly, this layer also protects the board from bowing or cupping, so the flooring will stay level. Next comes a high-density layer that is designed to withstand dents. The photo layer comes next, which replicates the wood or tile effect that you have chosen. Lastly is the scratch-resistant layer, which is the melamine resin.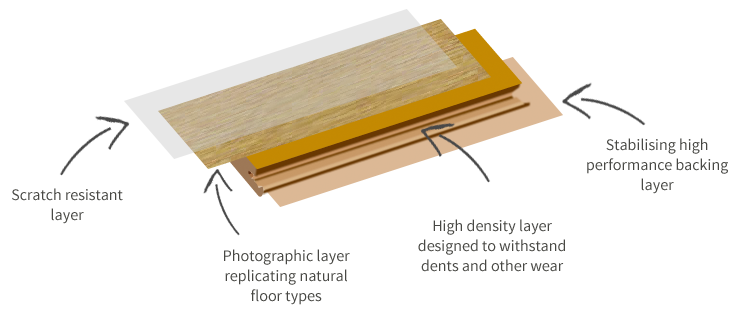 The Pros and Cons of Laminate Flooring
These pros and cons will affect whether laminate flooring is the correct option for your room and lifestyle.
Laminate Flooring Benefits
The HDF used to make laminate flooring is resistant to changes in temperature and moisture
Laminate flooring comes in many styles as the photo layer can replicate any flooring material
The top layer on laminate flooring protects it from dents, scratches and other wear-and-tear
Many laminate flooring options are suitable for underfloor heating
Laminate is an affordable flooring option compared with the wood and tiles it can replicate
The Disadvantages of Laminate Flooring
Laminate flooring cannot be refurbished, so it tends to have a shorter lifespan than real wood floors.
Although the HDF is water-resistant, not all laminate flooring is waterproof, so if you're looking for laminate for the kitchen or bathroom, make sure to choose from our range of waterproof laminate.
If you'd like to know more about whether laminate is suitable for your room of choice, have a read of our laminate flooring room suitability guide.
Laminate AC Ratings
Are you wondering how durable laminate flooring is? Laminate flooring toughness is measured with an AC rating which ranges from 1 to 5. AC1-AC2-rated floors are more suited to domestic settings. AC3-AC5 are more suitable for commercial areas. The more traffic your floor will experience, the higher the AC rating you need. You can find the AC rating of each laminate flooring type on each product page.
Laminate Thickness
The thickness of laminate flooring can affect which would be best for you. Our laminate flooring ranges from 7mm in thickness to 12 mm.
Choose 7mm laminate flooring for a wide range of styles and more budget-friendly options. Thick laminate flooring does not always mean more durable, so don't worry about thinner laminates not lasting as long as thicker options. The durability is affected by the quality of the laminate flooring, and all of our options are chosen for high-quality.
If you have irregularities in the subfloor then choosing a thicker laminate, like our 12mm laminate floors is a good option. These thicker laminate floors are also quieter to walk on, making them a good option for high-traffic areas.
Choosing a laminate thickness between the two extremes will give you a combination of the benefits.
Types of Laminate Flooring
When choosing laminate flooring, it's important to think about the type that you want. The type of laminate plank you choose will affect the aesthetic of the whole floor and room. These come in single planks, multistrip planks and tile planks.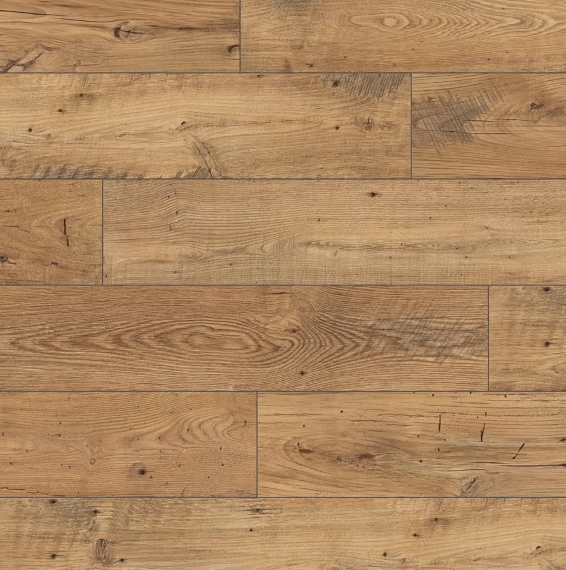 Single Plank
More often than not, laminate flooring comes in what's known as a 1-strip plank, which means each board is made to look like a single piece of wood, giving a traditional look. Single plank laminate boards look amazing in larger rooms and give a very authentic appeal.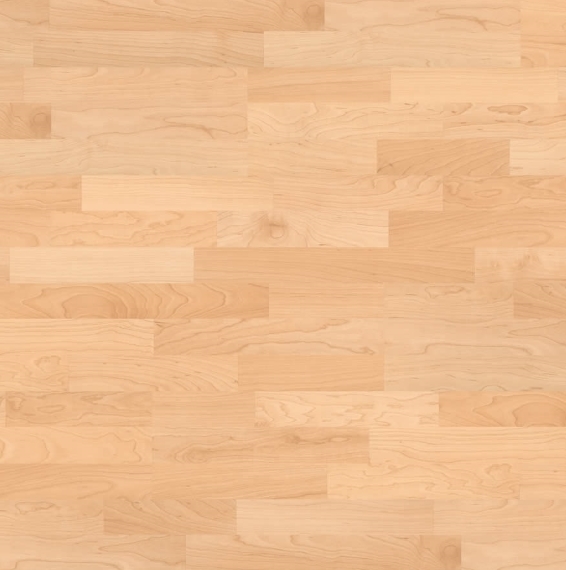 Multi Strip
If you're looking for something a little different, laminate floors can also be produced as multi-strip boards, which look like several small planks on a single board. Multi-strip boards are useful for making small rooms feel bigger than they are. Some can also be placed in alternative patterns to give a unique look to your room.
Narrow Plank
For small rooms, narrow plank laminates can give the impression of a larger space. These planks are narrower than standard laminate planks, creating an eye-catching floor as more joints are visible.
Wide Plank
Wide plank laminate flooring gives a rustic look and feel to a room. Laminate floors with wide planks are sleek, sophisticated and eye-catching.
Tile Plank Laminates
Unlike real wood floors, laminate plank tiles are made to look like stone or ceramic tiles. This is ideal if you want the look of tiles without the cold, brittle materials traditionally used, as laminate floors take on the ambient temperature of the room they're laid in.
Laminate Flooring Effects
Laminate flooring comes in a variety of styles and effects. From various wood species to stone effects, each has a choice of colours and tones. No matter the decor you want, there's sure to be one that suits. Here are some of the popular laminate flooring effects:
Oak Effect Laminate
For a traditional look, consider oak effect laminate flooring. Available in a range of colours from white to black, this laminate mimics the look of real oak flooring with flicks of different colours and shades in each plank.
Walnut Effect Laminate
Rich and elegant, walnut effect laminate flooring gives the striking look of real walnut floors with a much smaller price tag. Available in darker tones such as dark browns and red, walnut laminate has a warm aesthetic that looks great in any room.
Chestnut Effect Laminate
Chestnut is a wood known for its rustic charm and allure, which is mimicked in chestnut effect laminate. This wood comes in lighter tones, such as browns, greys and whites, and gives a light, airy feel to a room.
Tile Effect Laminate
Choose from slate, ceramic, or a polished concrete effect. The top layer will be textured like real stone, so these floors are as close to the real thing as possible, with all the perks of laminate.
What to Consider When Buying Laminate
Before you choose your laminate flooring, be sure to consider the following:
How much traffic does your room endure? Look for laminate with a high AC rating for high traffic areas.
The size of your space - to make a small room look larger, choose lighter colours such as light brown, white and grey.
Interior design - ensure the colour and effect you choose matches your walls and furniture.
Do you require underfloor heating? Most laminate is suitable for underfloor heating systems; check each product page for our "suitable with underfloor heating" certification.
Choosing Your Laminate Floor
If laminate flooring is the correct choice for your home, browse our laminate floors to pick your favourites. You can use our room visualiser to see what each option will look like in your room and order free laminate flooring samples for a closer look.
You'll also need to choose a suitable laminate underlay and other accessories. It's also easy to lay this floor; check out our guide on how to lay laminate flooring for more information.
Learn about our other floors