Laminate Thickness & Width
When deciding on the right thickness and width of your new laminate flooring, there are a variety of things to consider. Here, we go through everything you need to know to decide which is best for you.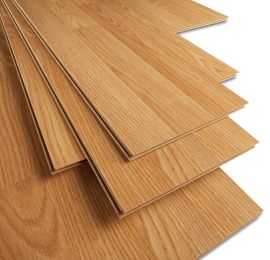 Laminate Thickness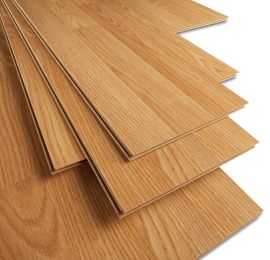 Our laminate flooring ranges from 7mm to 12mm in thickness. Our 7mm laminate flooring comes in a modest variety of styles and finishes. Whereas our 12mm laminate flooring is available in an abundance of styles and effects. And we have everything in between!
Our thicker flooring also has a selection of waterproof finishes, which is perfect for the bathroom. Choosing a thicker flooring can result in a better-insulated room. However, with the right underlay, a thinner flooring will be just as comfortable.
See our range of underlay available.
Benefits of Thicker Flooring
Thicker laminate floors are easier to lay, quieter to walk on and are better to hide small irregularities in the subfloor. We find that most people prefer to lay a 12mm thick laminate in high-traffic areas.
Benefits of Thinner Flooring
Opting for a thinner laminate flooring is usually a budget-friendly alternative to a thicker floor. It is important to remember that thickness and durability are different things. Thicker does not always equal more durable. Durability is measured by quality.
Durability
As previously mentioned, just because a laminate floor is thicker than others, this does not mean it automatically has more durability. All of our flooring is made to the highest standard and is a durable material.
Choosing the right thickness and width of your new floor massively depends on the room.
Read our Room Suitability Guide.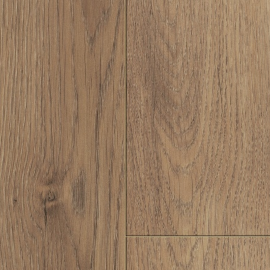 Laminate Width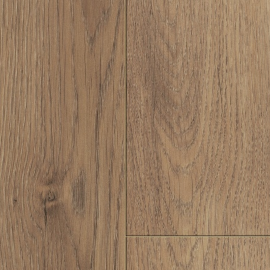 Laminate flooring comes in a variety of shapes and sizes – whether it's a long board, extra wide plank, or a square tile, we have a great range of laminate floors to suit your needs. We have laminate planks as well as huge tile effect laminates to choose from.
Now you have read and hopefully decided on the right thickness and width for your new flooring, check out our Laminate Flooring Maintenance and Aftercare Guide.
Learn about our other floors